Ernst Ludwig KIRCHNER,
Rue à Dresde
, 1908, 150,5 X 200,4, New York, Museum of Modern Art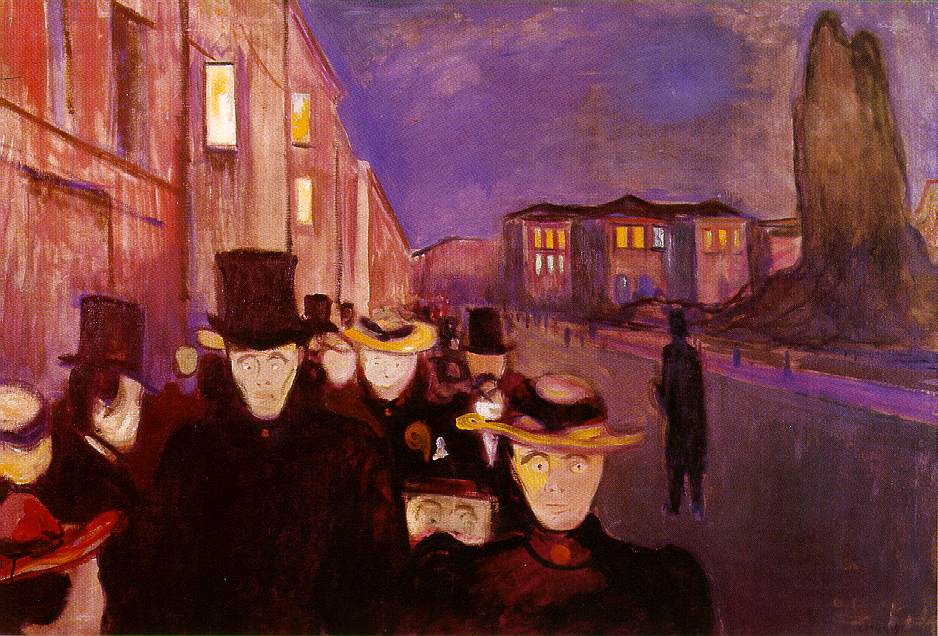 Edvard MUNCH,
Soirée sur l'Avenue Karl-Johan
, 1892, 84,5 X 121, Bergen, Bergen Art Museum
Mark Daniel COHEN, « The Phenomenological Loss of the Soul » (sur l'exposition
Edvard Munch : The Modern Life of the Soul
, New York, MoMA, 19 Février - 19– 8 Mai 2006) :
www.nietzschecircle.com/archive_hyperion.html
.
Street, Dresden is Kirchner's bold, discomfiting attempt to render the jarring experience of modern urban bustle. The scene radiates tension. Its packed pedestrians are locked in a constricting space; the plane of the sidewalk, in an unsettlingly intense pink (part of a palette of shrill and clashing colors), slopes steeply upward, and exit to the rear is blocked by a trolley car. The street — Dresden's fashionable Königstrasse — is crowded, even claustrophobically so, yet everyone seems alone. The women at the right, one clutching her purse, the other her skirt, are holding themselves in, and their faces are expressionless, almost masklike. A little girl is dwarfed by her hat, one in a network of eddying, whorling shapes that entwine and enmesh the human figures.

Developing in parallel with the French Fauves, and influenced by them and by the Norwegian painter Edvard Munch, the German artists of Die Brücke explored the expressive possibilities of color, form, and composition in creating images of contemporary life. Street, Dresden is a bold expression of the intensity, dissonance, and anxiety of the modern city. Kirchner later wrote, "The more I mixed with people the more I felt my loneliness."
The Museum of Modern Art, MoMA Highlights, New York, The Museum of Modern Art, revised 2004 (originally published 1999), p. 60